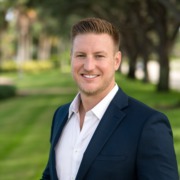 Kyle is a South Florida Native born and raised in Fort Lauderdale. He has great expertise of Broward, Palm Beach and Dade County real estate market. Both Kyle's parents are also Florida Natives, they have lived in many neighborhoods around the greater Fort Lauderdale. Giving Kyle a great understanding of the entire South Florida region.
Kyle earned a Bachelor Degree in Finance from Florida Atlantic University. After Graduation he decided to pursue Real Estate and received his Realtor's License. His business and clients have been growing year by year. He has worked at 3 different brokerages and brings a good knowledge and understanding of the industry from each company he has worked with. Kyle has made a team of people he works with throughout the years so each transaction is handled efficiently and with care.
Kyle averages 3 times as many transactions a year than the average realtor. Each of Kyle's deals are completely different from one another. This gives Kyle a unique perspective into each deal he is involved in and helps him apply that to future transactions. While at FAU, Kyle took numerous real estate investment courses as electives which in turn has assisted many of his clients make financially smart investments choices whether for personal use or to build their portfolios.
In his spare time, he enjoys traveling with his wife and two children. Kyle volunteers his time at St Colemans where both his children attend school.  Kyle loves being outdoors and a few of his hobbies include surfing, golfing, playing baseball, coaching his children's teams, and skiing with his family.