The Ultimate Guide on Moving To and Living in Boynton Beach, Florida
Posted by Margot Platt on Wednesday, December 16, 2020 at 11:30 AM
By Margot Platt / December 16, 2020
Comment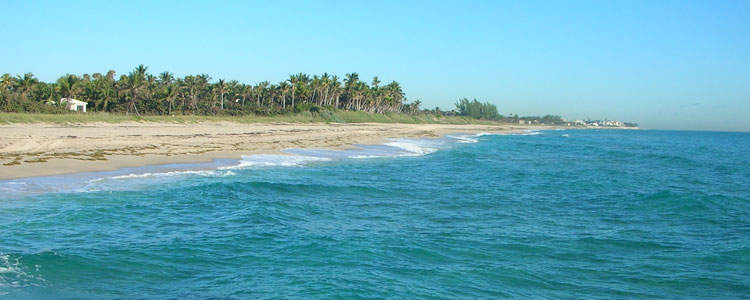 Boynton Beach is located in the Palm Beaches of Florida. This dreamy county includes popular cities like Boca Raton and Delray Beach. Residents love living along the coastline with direct access to the ocean and a long list of incredible amenities nearby. Many people choose to relocate to Boynton Beach as they retire, love the outdoors, or enjoy the fantastic lifestyle. Here's the ultimate guide to moving to and living in Boynton Beach, Florida.
What is The History of Boynton Beach?
The city is named after Major Nathan Smith Boynton after he relocated to South Florida from Michigan in 1895. He built the Boynton Hotel after he purchased some oceanfront land. He recruited workers from Michigan, and they brought their families with them. Henry M. Flagler would bring the Florida East Coast railroad to the area, making it a tourist hot spot because people wanted to visit the warm coastline and the ocean, particularly in the winter months. After this, the area began to grow rapidly and industries, like farming, expanded.
What is Real Estate Like in Boynton Beach?
Living in Boynton Beach is a dream for many people, and the real estate market reflects that. The city offers various properties like waterfront condos, townhomes, luxury estate homes, and single-family homes. Newly constructed homes are completed by some of the country's top builders, like Toll Brothers and GL Homes. Homes cost between $15,000 to over $2.1 million. There's something for every lifestyle and budget in Boynton Beach. Interested buyers are drawn to the area, given the ocean, subtropical climate, and amenities. Many communities are close to the ocean, dining, and shopping. For outdoor enthusiasts, there's always something to do.
Finding your new community to call home can be difficult, but luckily, Boynton Beach has many excellent neighborhoods that meet the needs of your ideal home. There are family-friendly communities, luxury areas, trendy communities close to amenities, and oceanfront properties.
Chapel Hill
Chapel Hill is a neighborhood that is close to all the action. The single-family home community is great for residents who want to access the best beaches, tourist spots, and outdoor fun. The homes in the area offer a variety of floorplans, beautiful upgrades, and larger lots. Houses cost between $300,000 and $500,000, so there's something for a range of budgets. The neighborhood is close to excellent schools for families, entertainment venues, and so much more.
View All Homes For Sale in Chapel Hill, Boynton Beach, FL >>>
Rainbow Lakes
Located on the northern side of Gateway Boulevard, between Jog Road and Military Trail, Rainbow Lakes is home to a tight-knit group of neighbors. The waterfront properties in the neighborhood range from $280,000 to $500,000. The colonial-style homes boast some of the best architecture you'll find in the city. Rainbow Lakes is perfect for families and offers several community amenities like a playground, swimming pool, barbeque areas, walking trails, tennis courts, and clubhouse. The maintenance fees paid to the community cover the area's maintenance, security, and basic cable. For parents of school-aged children, some of the city's best schools are located in Rainbow Lakes. Located minutes from the I-95, it's easy to get around the city from the community. It allows residents to get to restaurants and shopping easily and quickly.
View All Homes For Sale in Rainbow Lakes, Boynton Beach, FL >>>
Boynton Isles
Boynton Isles is an ultra-luxe community on the Intracoastal Waterway. The single-family luxury homes in the neighborhood have up to 2,400 square feet of living space. Many of these homes have been upgraded and have incredible details and features. Homes in Boynton Isles cost around $700,000, on average. The neighborhood is in a prime location, not only for boaters, but it's less than half a mile from some of the best beaches in Florida. Minutes away is major highways, making it convenient to get to boutiques, high-end retailers, dining, and entertainment. There are stunning views in every direction, and residents love calling Boynton Isles home.
View All Homes For Sale in Boynton Isles, Boynton Beach, FL >>>
Aspen Glen
The suburban atmosphere of Aspen Glen makes it a desirable community with friendly and welcoming neighbors. Every modern home in Aspen Glen is perfectly maintained. There are only 45 homes in the neighborhood, making the market more competitive than in other areas in the city. Homes cost between $320,000 and $450,000. Upon first arriving in Aspen Glen, you'll immediately notice the calm and relaxing vibe, and it's peaceful and quiet. There is a homeowner's association fee of around $125 per month, but that includes maintaining common areas and each front yard. Aspen Glen is in a great location with access to excellent schools, beaches, and amenities. It's a safe community that is perfect for families with children.
View All Homes For Sale in Boynton Beach, FL >>>
What Is There To Do in Boynton Beach?
Aside from spending every waking minute at the beach, there are many activities to partake in around the city.
Arthur R. Marshall Loxahatchee Wildlife Refuge
Florida has unique environments and habitats that can be explored, and the Arthur R. Marshall Loxahatchee Wildlife Refuge offers that experience. Visit Everglades and swamps up close and participate in hiking, biking, fishing, and wildlife observation. Guests can easily spend an entire day exploring and learning about the Florida environments up close. Take a pit stop at the visitor center on Lee Road before starting to get an idea of what the facility offers and the park's amenities. The Arthur R. Marshall Loxahatchee Wildlife Refuge is a perfect family outing.
Haunted Pirate Fest and Mermaid Splash
Each year at the end of October, the Haunted Pirate Fest and Mermaid Splash are held in Boynton Beach. There are so many things to do, and it's a must-see for residents and tourists alike. The events include treasure hunts, live entertainment, parades, costume contests, and much more. Located on NE 4th Street, it's right in the heart of the city and conveniently located. Kids will love the two-day event, and you won't want to miss it.
Wakodahatchee Wetlands
The Wakodahatchee Wetlands is located on Jog Road in Delray Beach. The preserved area has over 50 acres of naturally restored public utility land to enjoy year-round and is free to explore. There are over 100 native bird species, turtles, alligators, and raccoons to look out for. There is a raised boardwalk a mile above the wetlands, so guests can get a full view of everything there is to see. Since the mid-90s, the wetlands have been on the top of the to-do lists of residents and tourists.
Outdoor Activities
From golfing to the ocean, Boynton Beach is the ideal place for outdoor enthusiasts.
Oceanfront Park
Oceanfront Park is an inexpensive way to spend the day. While the park isn't free to visit, the amenities guests have access to is impressive. Boynton Beach sees many visitors from all over the world each year. There are many tourist-approved amenities around the city that residents get to enjoy in the off-seasons. Located on North Ocean Blvd, Oceanfront Park is a massive hit among residents of all ages. With beach access, a wheelchair-accessible boardwalk, playground, lounge chairs, and umbrellas, it's the perfect place to spend the day in Boynton Beach.
The Links At Boynton Beach
Florida is known for its golfing. As a destination for pro golfers, golf fanatics, or newly interested golfers, there are over 1,000 courses in the state. The Links At Boynton Beach features two sweeping courses that are perfect for the novice golfer or the pro. The flagship course is an 18-hole, par 71 championship course with some incredible views and is challenging for golfers. If you're looking for a quick game, a nine-hole course doesn't take four hours. You'll want to book in advance, as tee times go quickly, especially during peak season.
Morikami Museum And Japanese Gardens
It's recommended for anyone living in or visiting Boynton Beach to visit The Morikami Museum and Japanese Gardens in neighboring Delray Beach. It's a unique experience that is a must-see and a nice change from the beaches and golfing. The garden beautifully illustrates Japanese culture and the art of combining natural and manmade worlds to create peace and harmony. The garden is over 100 years old and includes a gift shop and a delicious cafe.
What are The Best Schools in Boynton Beach?
Boynton Beach has some excellent schools within the city. With public, charter, and private options, there is a school that parents will love for their children.
The top elementary schools include:
Sunset Palms Elementary School
Public, PK-5 | 990 students
Crystal Lakes Elementary School
Public, PK-5 | 727 students
Ben Gamla-Palm Beach
Charter, K-8 | 255 students
Hagen Road Elementary School
Public, PK-5 | 762 students
Crosspointe Elementary School
Public, PK-5 | 714 students
Top Middle Schools include:
Ben Gamla-Palm Beach
Charter, K-8 | 255 students
Somerset Academy Canyons Middle School
Charter, 6-8 | 875 students
Christa Mcauliffe Middle School
Public, 6-8 | 1271 students
Imagine Schools Chancellor Campus
Charter, K-8 | 1031 students
South Tech Preparatory Academy
Charter, 6-8 | 530 students
Top High Schools include:
Somerset Academy Canyons High School
Charter, 9-12 | 736 students
South Tech Academy
Charter, 9-12 | 1144 students
Boynton Beach Community High School
Public, 9-12 | 1691 students
The Art Scene
Boynton Beach has a diverse art scene, and there are many family-friendly programs to enjoy. There is a rich atmosphere of arts and culture from dance and music to public art and events. In neighboring Boca Raton, the famous Boca Raton Museum of Art is a must-see experience.
Boca Raton Museum of Art
The Boca Raton Museum of Art is one of the most impressive collections of contemporary art in the state, and it's the ideal place for an art-lover to spend the day. For over 20 years, the world-famous pieces have been admired by residents and tourists alike. There are both permanent displays to enjoy and many events held in the building. The museum supports local communities with courses, art classes, new exhibits, and a place for live music.
For the Foodies
Boynton Beach is home to casual and fine dining options that suit whatever you're craving. There are plenty of local and family-owned restaurants that make a big impression on residents.
Casa Linda
A popular family-owned Mexican spot in the city, Casa Linda offers the best Spanish cuisine around. The festive interior makes guests feel like they're in the heart of Mexico while enjoying a live Mariachi band. Some of the local favorites include the crab meat nachos, ropa vieja, and the vegetarian menu. On Wednesdays, Margaritas are only 99 cents with dinner.
Saltwater Brewery
South Florida has jumped on the craft beer craze like many other significant areas of the country. Locally-produced beer is an adventure for any beer enthusiast, and breweries are a trendy place to grab a bite and experience some new beer. Located in neighboring Delray Beach on West Atlantic Avenue, it's only about ten minutes from Boynton Beach. As one of the first micro-breweries in the city, they've been a popular spot among locals. Take a facility tour on Saturdays, and grab lunch at one of the many food trucks on site.
Craft Food Tours
Florida has a massive food scene because of the diverse influences of culture from residents. Many excellent restaurants serve cuisines from all over the world, and there's a great way to experience a lot of them. Craft Food Tours operates out of Delray Beach and Hollywood, and they take residents to amazing restaurants that are hidden gems from distinct communities. Patrons can choose from various packages and taste the best of what Palm Beach County has to offer.
East Ocean Café
The quaint neighborhood cafe is a cozy and charming venue with indoor and outdoor seating. The welcoming atmosphere makes it a popular spot to have lunch with friends and family, and it's home to some of the best pumpkin pancakes, breakfast burritos, and barbequed pork tacos on soft tortillas. Desserts are their specialty with massive cinnamon rolls.
Pho VN
The family-owned and operated Pho VN is the spot for authentic Vietnamese food. The restaurant features an inviting atmosphere and has some of the most flavorful meals around. Some of the most popular dishes include the rice platter, Thai papaya salad, char-grilled chicken, steamed jasmine rice, and of course, a delicious bowl of Pho.