Azura Homes & Real Estate - Boca Raton, FL
Find the newest home listings in Azura, Boca Raton, today! Azura of Boca Raton is a single-family, luxury home community situated on 37 acres in prestigious Boca Raton, Florida. Azura offers its residents a 7,500 square foot state-of-the-art clubhouse and spa center in the middle of the luxury community. Azura in Boca Raton consists of just 92 extraordinary estate homes for sale and many superb amenities such as a fitness center, spa, and a resort-style pool. Azura in Boca Raton is within minutes of upscale shops and great dining experiences. For more information on real estate for sale in Azura, Boca Raton schedule a showing, call us today or send an email.
Jump To: Azura Listings | Azura Info | Contact Us | Create An Account
Homes For Sale in Azura, Boca Raton, FL
Azura, Boca Raton, FL Homes Listings
January 16, 2022
$2,103,574
Med. List Price
Gearing up to buy or sell a home soon in Boca Raton? Call The Platt Group at (954) 592-2371. Your neighborhood Azura, Boca Raton realty team is here to help navigate the Boca Raton real estate market.

Azura Homes For Sale
Azura is an exclusive, gated community of impressive estate homes nestled in the heart of Boca Raton. This sophisticated Toll Brothers community boasts an impressive gated entrance with cascading fountains and exotic, tropical plantings. All of the Azura homes accessible to be bought offer 4,200 to 6,600 square feet of living space, three to five rooms, and open three-vehicle garages. This gorgeous community sits on 37 acres of sacred South Florida landscape accentuated by its picturesque palm tree-lined streets and countless sparkling lakes.
Azura comprises 92 affluent bequest homes, with seven remarkable home plans from which to pick. These noteworthy Mediterranean-enlivened homes brag stunning building subtleties and lay on 1/4 to 1/3 section of land home locales. Other exceptionally positive highlights of homes available to be purchased in Azura include:
Gourmet kitchens with granite countertops
Stainless steel appliances
Volume ceilings
Upgraded floors
Spacious master suites
Many residences range in price between $800,000 to $2,300,000 depending on the property's style, designs, views, and location.
Where is Azura?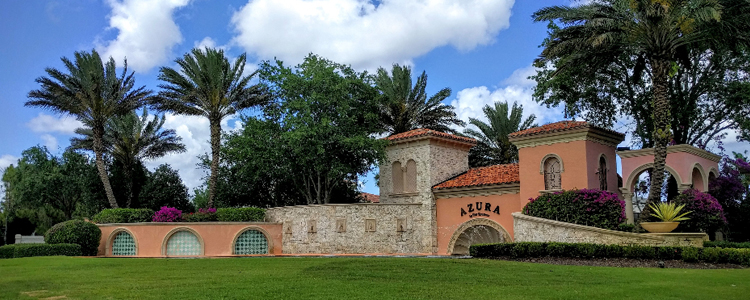 The neighborhood of Azura is located East of Jog Road and north of Clint Moore Road in Boca Raton. This optimal area is only a short drive from downtown Boca Raton and advantageously near the entirety of the activity and energy occurring in midtown Delray Beach. I-95 and Florida's Interstate are only minutes from Azura, making it advantageous to go on a speedy outing to the nearby cities.
Azura is the ideal spot to call home in the event that you look for a rich way of life with a large community of upscale conveniences inside an elite, tranquil local area.
Travel To Nearby Cities
Azura is situated in south Florida, convenient to numerous famous urban communities and towns. Inhabitants of the profoundly advantageous local area can rapidly get to multiple close-by regions, which incorporate dazzling beachfront villages, beautiful inland towns, and obviously, the air terminal for additional travel opportunities. Nearby destinations include:
Fort Lauderdale, Florida - 43 min (27.9 mi) via I-95 S
Miami, Florida - 1 hr 6 min (54.2 mi) via Florida's Turnpike
Orlando, Florida - 2 hr 53 min (188.0 mi) via Florida's Turnpike
Azura Neighborhood
Homeowners residing in Azura can venture outside their lovely local area and discover numerous regular conveniences. The region's optimal area presents closeness to stores, shops, administrations, and that's just the beginning. Regardless of whether residents are searching for supermarkets, drug stores, monetary foundations, and clinical workplaces are situated inside a couple of miles of the local area. Residents will identify the famous Winn Dixie, Publix SuperMarket, and Boca Russian Italian Market within a short drive, offering plenty of food, drink, and other supplies.
Amenities Within Azura, Boca Raton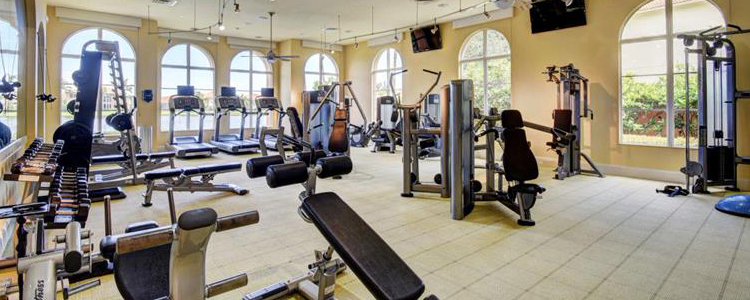 If you seek an upscale environment with all the amenities you would expect from a luxury home community, Azura is the perfect fit. In the affluent Azura community, there are unique single-family estate homes in the heart of Boca Raton. That means you are centrally located and can experience all the shopping, restaurants, beaches, and fun that Boca Raton has to offer, all within minutes of your home. Being centrally located offers easy access to beaches and downtown Boca Raton.
As for Azura itself, the homes have all you need to live the life you worked so hard to achieve. Azura has clay tennis courts, a lake, and a massive clubhouse and spa, so all social and leisure activities are covered. The custom homes have porches, very much kept up with yards, gardens, and elegant landscape finishing, and Azura offers a high-level wellness office, a pool, artful dance/yoga studio, and social activities all year.
Breakdown of the top-notch amenities include:
7,500 square foot clubhouse
Fully-equipped fitness center and spa
Gorgeous resort-style swimming pool
Elegant social room
Game room for cards/billiards
Ballet/Yoga studio
Beautiful putting green
Children's playground
New tennis courts
Enjoy The Natural Scenery Found in Boca Raton
A vast piece of Boca Raton city's appeal is because of the consideration that has been taken to keep it veritable. Some huge scope chains and types of publicizing are essentially not allowed in Boca Raton, protecting its one-of-a-kind appeal. Boca Raton is consummately offset with the regular excellence of lush parks and the sea, just as stunning design. The city is buzzing with spots to investigate and significant destinations, including incredible coastline, upscale shopping, and a clamoring culinary scene.
You basically can't visit Boca Raton without investigating the flawless coastline. Many declare that the genuine fortune of this city is the 2 mile stretch of seashores that reach out through three of Boca Raton's central parks. This seashore region is normal, immaculate, and lacking, making it the absolute most regular shoreland in Florida. You will not see similar sort of weighty oceanfront condominiums, inns, and rambling hotels disturbing the scene in Boca Raton. Appreciate quiet perspectives, swimming, surfing, and in any event, swimming.
Red Reef Park is probably the ideal alternative to briefly look at nearby undersea life, with a man-made reef only 10 feet seaward. Snatch your swimming stuff and look into the little plunges and holes to discover brilliant exotic fish, eels, turtles, and even stingrays.
Furthermore, nearer to shops and cafés lies Deerfield Beach, including a grand wharf. A large portion of these seashores helpfully have restroom offices with showers, a gigantic in addition to following a pungent day in the sun. Regardless of whether you like to relax in the daylight with your feet in the sand or sprinkle in the delicate surf, Boca Raton beaches are the ideal objective.
Spanish River Park, known as "Boca Raton's Lagoon," Spanish River Park is one of the gems connecting the city's expansive beaches. Spanish River Park is one of the jewels associated with the city's broad seashores. As well as offering admittance to the peaceful, delicate sand seashore, this park has its own excellent climbing trails, fishing spots, and outing regions. Sufficient grills for guests take into consideration pleasant noon under the sun.
This is one of the more significant stops in Boca Raton, so there is much space to fan out. Generally, there will be fewer groups, particularly if you can make it here in the early morning hours. This makes it one of the more isolated and serene parks where you can partake in the everyday excellence that flourishes. Put together a lunch and plan a day relaxing on the beaches or strolling the picturesque path.
Excellent Educational Opportunities For Students Of All Ages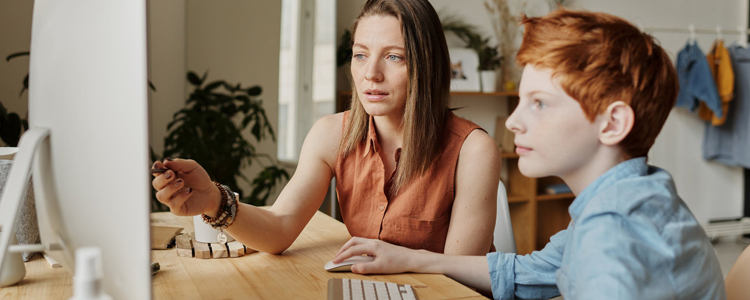 The neighborhood of Boca Bridges falls under the educational schooling district of Palm Beach County. This exceptionally well rated district is home to many highly ranked schools that provide quality education to students from prekindergarten through grade 12 and beyond. The School District of Palm Beach County is the tenth-largest in the nation and the fifth-largest in Florida, serving more than 197,000 students.
Public Schools in the Azura area include:
Calusa Elementary School | 9580 W Calusa Club Dr, Miami, FL 33186 | Prekindergarten - Grade 5 | Student Enrollment: 1,094
Omni Middle School | 5775 Jog Rd, Boca Raton, FL 33496
Grade 6 - Grade 8 | Student Enrollment: 1,473
Spanish River Community High School | 5775 Jog Rd, Boca Raton, FL 33496
Grade 9 - Grade 12 | Student Enrollment: 2,481
Private schooling is additionally an astute education alternative for families living in the Azura community. The region offers schools that think about various blessings and interests and can be exorbitant or instructive expense-free.
Private Schools in the Azura area include:
Boca Raton Christian School | 470 NW 4th Ave, Boca Raton, FL 33432 |
Pre Kindergarten-Grade 12 | Student Enrollment: 622
Pine Crest School of Boca Raton | 2700 St Andrews Blvd, Boca Raton, FL 33434 |
Pre Kindergarten-Grade 8 | Student Enrollment: 879
Types of Homes for Sale in Azura, Boca Raton
With seven designs and four collections to choose from, buyers looking at Azura real estate will inevitably feel they've found their custom dream home. These Mediterranean-style homes by the Toll Brothers have all the elegance of the European style, but there is also high modernity to the appointments and features. For instance, the kitchens are visually stunning yet practically designed for convenience.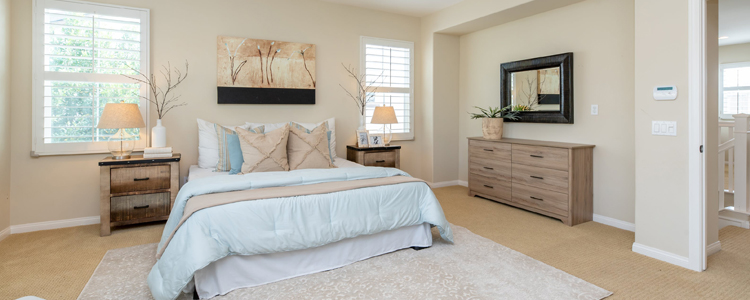 The Castalia: An impressive four bedroom, three bathrooms, with private study, a 3-car garage, featuring an expansive family room, formal dining room, and a spacious gourmet kitchen with granite countertops, stainless steel appliances, and custom wood cabinetry. The Castalia home models are priced from $975,000 and have 3,039 square feet of living space.
The Perla: An elegantly designed two-story luxury home with four bedrooms, 3.5 bathrooms, a private study, 3-car garage featuring a dramatic two-story foyer, a spacious living room, and expansive family room. Upstairs, a spacious loft overlooks the living room below. The luxurious master bedroom suite offers his and hers walk-in closets, a roman tub, a dressing area, and a separate glass-enclosed shower with 3,616 square feet of living space. The Perla at Azura Boca Raton is priced from $1,065,995.
The Dalenna: A dramatic two-story estate home with five bedrooms, 4.5 bathrooms, private study, 3-car garage, boasting unique features such as a two-story private study and formal living room, a family room accessible to the covered lanai, and gourmet kitchen which includes a center island and breakfast bar in addition to granite or marble counters and top-of-the-line stainless steel appliances. The expansive master bedroom suite features him and her walk-in closets, a roman tub, dressing area, an exercise room, all under 4,321 square feet of living space. The Dalenna model homes in Azura are priced from $1,219,000.
The Riviera: A dynamic home featuring four bedrooms, 4.5 bathrooms, and a private study. The expansive master bedroom suite in its wing of the house features special amenities, including a double-door vestibule entry, two (2) large walk-in closets, his and hers master bathrooms with a roman tub, dressing area, and separate shower. The home features a well-equipped gourmet kitchen with a breakfast area that overlooks the family room. The Rivera model in Azura Boca Raton boasts 4,743 square feet of living space and is priced from $1,295,995.
Azura, Boca Raton, is an excellent area arranged in quite possibly the most pursued regions in all of South Florida. Most occupants come to live in this beguiling local area for its beautiful seashores and incredible Florida-style environment. Azura, Boca Raton is known for its luxurious lifestyle and excellent shopping location making this area the home fit for many potential buyers! A short distance from the beach shoreline of the beautiful blue Atlantic Ocean, world-known championship golf courses, first-class amenities, and fine dining, Azura residents consider the community to be unmatched.
Jump back to Azura, Boca Raton Real Estate Listings >>>