Lotus Homes & Real Estate - Boca Raton, FL
Find the newest home listings in Lotus, Boca Raton, today! A lifestyle in Lotus, Boca Raton is a lifestyle like no other! The neighborhood is filled with brand new contemporary homes surrounded by lush gardens and gorgeous water. A unique vibe throughout the manicured streets in this highly sought-after address provides a chic lifestyle that could be yours today! For more information on real estate for sale in Lotus, Boca Raton schedule a showing, call us today or send an email.
Jump To: Lotus Listings | Lotus Info | Contact Us | Create An Account
Homes For Sale in Lotus, Boca Raton, FL
Lotus, Boca Raton, FL Homes Listings
January 16, 2022
$1,797,000
Med. List Price
Gearing up to buy or sell a home soon in Boca Raton? Call The Platt Group at (954) 592-2371. Your Lotus neighborhood Boca Raton realty team is here to help navigate the Boca Raton real estate market.
Lotus Homes For Sale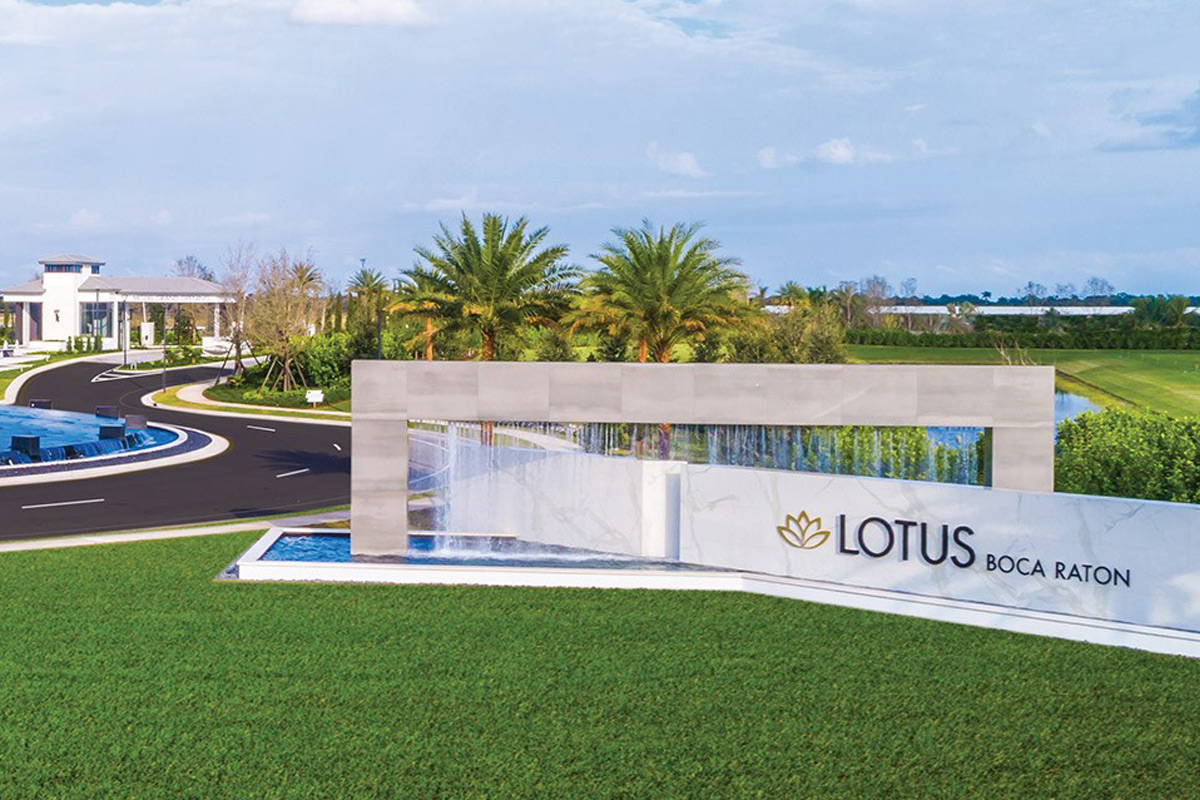 Homes for sale in the Lotus community were built considering present-day living; the all-new contemporary plans at Lotus are Boca Raton's most sultry new homes. The ultramodern style is reflected from the back to front and gives a definitive in refined living. With an inconceivable rundown of highlights that are now included as standard, you'll track down the home you had always wanted with the most recent patterns in contemporary living at Lotus.
This lavish development brings enjoyment to a luxurious lifestyle at a new high rise of top quality status. Homes in the neighborhood come at a profoundly sensible cost considering you and your family will be the first to own them. There could be no greater inclination than venturing into a new area and realizing that you are the first to break into your new home.
These designs feature various floor plans and sizes so you and your family can find the one that meets every point of your liking and criteria—rising over your common home principles and bringing your most extravagant dreams into the real world. When you and your family venture outside your front entryway, there is a universe of other local area conveniences anticipating your discovery.
No matter what floor plan or design option you and your family go with from the two awe-inspiring collections. Homes in Lotus feature the best upgrades for making a connoisseur kitchen complete with every one of the most recent appliances and high-class design and finishes. These homes incorporate a standard security and highlight, putting your family's well being at the front line of Lotus' interests.
Where is Lotus?
Lotus is located on Lyons Road between Clint Moore Road and Atlantic Avenue in West Boca Raton, Florida. Being located in one of Boca Raton's most desirable locations, residents here have easy access to all of South Florida's hotspots.
You are located near major area highways such as I-95 and Florida's Turnpike, making coming and going easily accessible from the Lotus community. Homeowners are offered an easy commute to nearby West Palm Beach, Fort Lauderdale, Miami, and two popular international airports. Lotus's ideal location may be the perfect neighborhood for the new home and lifestyle you desire, and you'll be minutes from gourmet restaurants and dining, upscale shopping, beautiful beaches, vibrant nightlife, entertainment, top-rated schools, and so much more!
Lotus Neighborhood
Residents of Lotus community are situated ideally just minutes from popular shopping destinations, including Canyon Town Center, the Delray Marketplace, and Town Center at Boca Raton. Here residents can complete any of their shopping needs, including groceries, a liquor stop, a new outfit for a night out, or grab a latte at a local cafe with a friend.
Several parks and recreation areas are also dotted throughout the community, such as Burt Aaronson South County Regional Park, the Morikami Museum and Japanese Gardens, and Gumbo Limbo Nature Center. Just 10 miles from Lotus' lovely neighborhood within a short distance, residents will find several public beaches, including the famous Spanish River Park, which is just 10 miles from the community.
Lotus is zoned in the well-rated Palm Beach County, including many A-rated schools. Whispering Pines Elementary, Eagles Landing Middle School, and Olympic Heights Community High School are just a few of the schools located within the well rated district situated in the area.
Lotus community is a sister neighborhood with Boca Bridges, and the community also includes many other beautiful nearby areas. Nearby neighborhoods include The Bridges, The Oaks, Stonebridge, Boca Chase, Boca Gardens, St. Andrews Country Club, Addison Reserve, Whisper Walk, Woodfield Country Club, Northwest Boca Raton, Lakes at Boca Raton, Gleneagles, Century Village West, American Homes Boca Raton, Boca Greens, Dakota, and Boca Isles.
Amenities Within Lotus, Boca Raton
Lotus's luxury lifestyle begins at the fabulous 30,000 square-foot Clubhouse, which rests at the community's edge surrounded by lush tropical landscaping and dual water features. The Clubhouse, or lifestyle center, features a sophisticated, modern design and an impressive list of resort-style amenities that residents may enjoy year-round.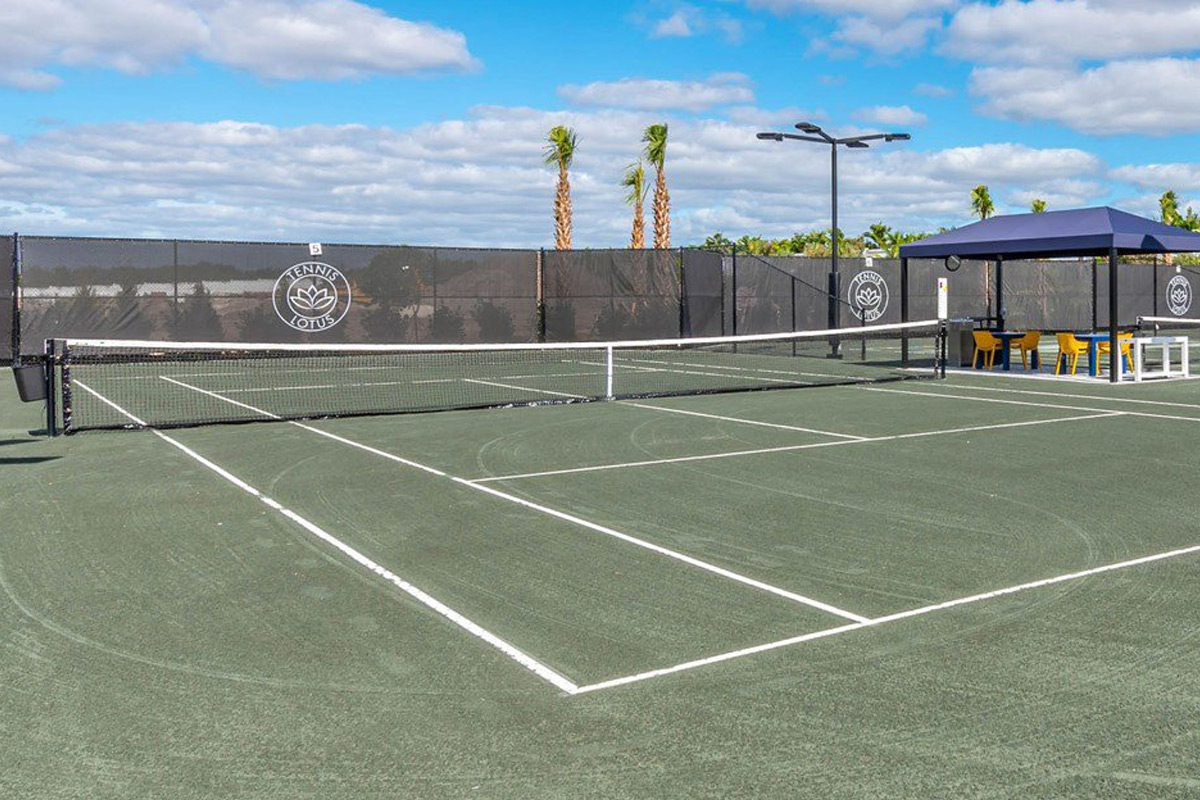 Homeowners at Lotus may enjoy playing tennis and pickleball on the many premier outdoor courts, as well as a friendly game of basketball at one of their indoor courts. The beautiful neighborhood features an outdoor dining area perfect for family gatherings with an impressive bar running along with it. Those who heat up during the day can cool off in the resort-style pool or walk across to the water play area perfect for the kids! There's plenty to offer to keep the whole family's attention full of entertainment for hours on end.

Those looking to get a daily workout can do so at the fully functioning twenty-four-hour fitness center with all brand-new state-of-the-art equipment. Or spend the day relaxing in the grand lobby in the elegant lounge sipping on one of the menu cocktails. Residents also have full access to a game room, cards room, locker rooms with showers, and an outdoor shaded patio with a covered entryway and seating for a group of friends!
Enjoy The Natural Scenery Found in Boca Raton
The beautiful city of Boca Raton provides residents many parks, beaches, and recreational areas. Lucky for the residents of Lotus, they are in the heart of it all! The popular parks chosen by residents include Arthur R. Marshall Loxahatchee National Wildlife Refuge, Morikami Museum, Japanese Garde, and Burt Aaronson South Regional State Park, all offering something uniquely different.
Some of the most popular beaches dotted around include the Spanish River Park, located just a short 10 miles away. A gorgeous 95-acre public park on the coast with picnic areas including 125 tables and beach access through three tunnels that pass under A1A, so you don't have to worry about crossing the street. In addition, there are ten pavilions and almost 1000 parking spaces. Spanish River Park is the place to go for a relaxing beach day!
Gumbo Limbo Nature Center located just 11 miles away, is a beacon for environmental education, research, and conservation. The 20 acres of the protected barrier island provide refuge to many plants and animals - some rare or endangered. Another beautiful park includes the Gulfstream just 15 miles away, hosting full bathrooms, water fountain, showers, playground, picnic tables and bbq's, lifeguard, and underwater rock reefs; what a better spot to choose from than one with waters shallow enough for your young ones to stand comfortably. Lastly, Ocean Inlet Park, just 17 miles away, has a beautiful public beach with kayaking and fishing activities available!
Many homeowners chose to live in Lotus because of its convenient location to the beautiful golf courses. Many stunning courses can be found throughout the outer neighborhood, including Westchester Country Club just 7.5 miles away, Indian Spring Country Club a short 9.2 Miles, and Osprey Point Golf Course 7.1 miles away. These courses are perfect for any type of golfer at every age!
The nature scene is undesirable in Boca Raton, Florida, it's a primary reason why many choose to live a lifestyle here. Active, healthy, and happy are qualities many residents in Lotus possess, making it an easy choice to make Lotus, Boca Raton home.
Excellent Educational Opportunities For Students Of All Ages
The kids of Lotus will attend some of the finest educational facilities located in the Palm Beach County District. The schooling system provides dedication to a continuing tradition of excellence in an ever-changing world. Within a safe and supportive environment, they teach a high-quality education and prepare students for future endeavors. The School District of Palm Beach County is one of the largest public schools in the United States, and is the fifth largest school district in all of Florida.
Public Schools in the Lotus area include:
Whispering Pines Elementary School | 9090 Spanish Isles Blvd, Boca Raton, Florida 33496
Pre Kindergarten-Grade 5 | Student Enrollment: 881
Boca Raton Elementary School | 103 SW 1st Ave, Boca Raton, Florida 33432 | Prekindergarten - Grade 5 | Student Enrollment: 355
Boca Raton Middle School | 1251 NW 8th St, Boca Raton, FL 33486 | Grade 6 - Grade 8 | Student Enrollment: 1560
Omni Middle School | 5775 Jog Rd, Boca Raton, FL 33496 | Grade 6 - Grade 8 | Student Enrollment: 1,473
Eagles Landing Middle School | 19500 Coral Ridge Dr, Boca Raton, FL 33498 | Grade 6 - Grade 8 | Student Enrollment: 1480
Boca Raton High School | 1501 NW 15th Ct, Boca Raton, FL 33486 | Grade 9 - Grade 12 | Student Enrollment: 3,379
Olympic Heights Community High School | 20101 Lyons Rd, Boca Raton, FL 33434
Grade 9 - Grade 12 | Student Enrollment: 2,169
Spanish River Community High School | 5775 Jog Rd, Boca Raton, FL 33496 | Grade 9 - Grade 12 | Student Enrollment: 2,481
Private education is also an excellent schooling option for families living in the Lotus communities. The district offers schools that consider an assortment of endowments and interests; any personal and independent education options are available in religious and non-religious settings.
Private Schools in the Lotus area include:
Fusion Academy School | 5050 Conference Way N Suite 110, Boca Raton, FL 33431 |
Grade 6 to Grade 12 | Student Enrollment: 77
Boca Raton Christian School | 470 NW 4th Ave, Boca Raton, FL 33432 |
Pre Kindergarten-Grade 12 | Student Enrollment: 622
Pine Crest School of Boca Raton | 2700 St Andrews Blvd, Boca Raton, FL 33434 |
Pre Kindergarten-Grade 8 | Student Enrollment: 879
Saint Andrews School | 3900 Jog Rd, Boca Raton, FL 33434 |
Pre Kindergarten-Grade 12 | Student Enrollment: 1,285
Types of Homes for Sale in Lotus, Boca Raton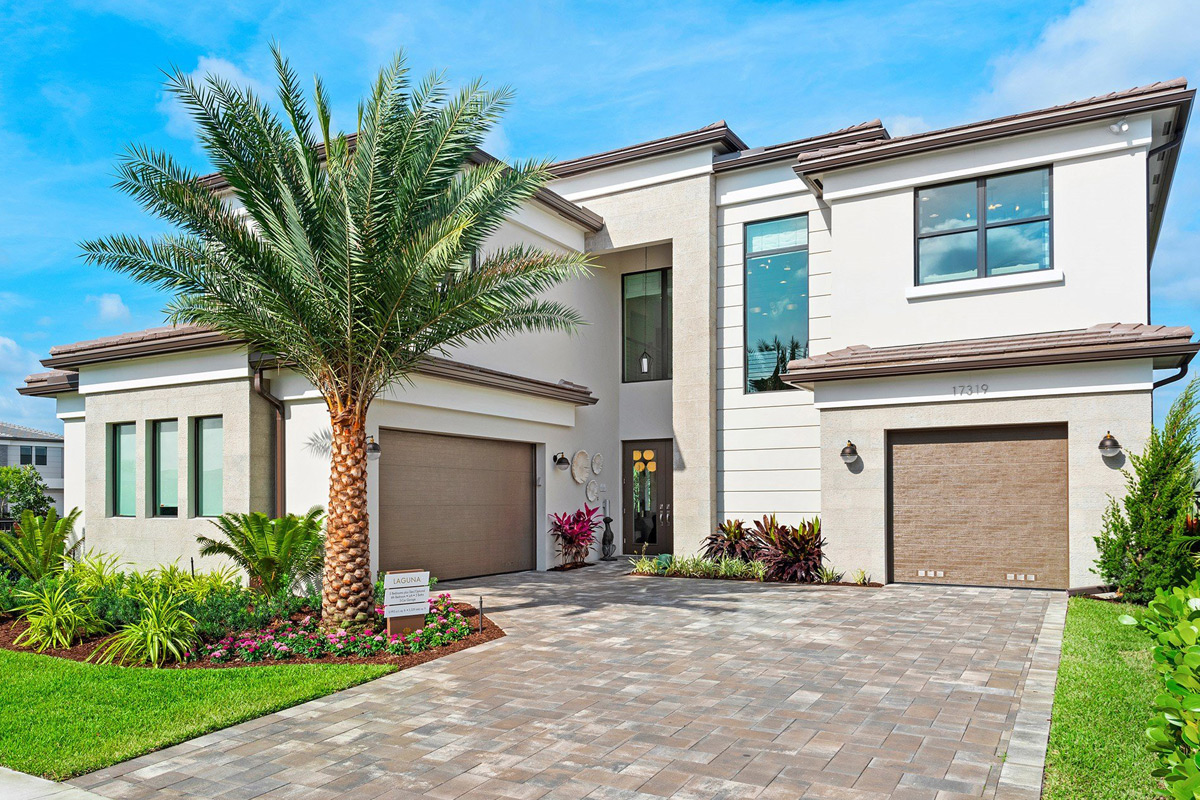 Real estate in Lotus is the newest resort-style luxury home community currently under development in West Boca Raton by South Florida. This unique gated area will include all-new and ultramodern home plans. Lotus real estate will offer not just the most blazing new development single-family homes in Boca Raton, but yet a refined, present-day way of life with elite amenities equaling even the best retreats.
All of the new construction homes for sale at Lotus feature sleek, modern architectural design with solid construction and hurricane impact-resistant glass windows and doors. Other features may include a two, three, or four-car garage and a beautiful lush landscape for expressing all your inner gardener desires.

The beautiful Lotus Boca Raton homes will feature twelve unique floor plans within two new modern home collections. Both collections of homes, the Fiji Collection and Bali Collection offer a contemporary vibe for those looking for a new current home.
The Fiji Collection features eight unique floor plans ranging in size from 1,966 square feet to 4,500 square feet of living space with two to five bedrooms. Homes in the Fiji Collection can be found starting at the mid $600K's
The Bali Collection at Lotus features four-floor plans, offering more significant and exclusive estate homes ranging from 2,762 to 5,160 square feet in size. Homes in the Bali Collection are found priced starting from the $760s.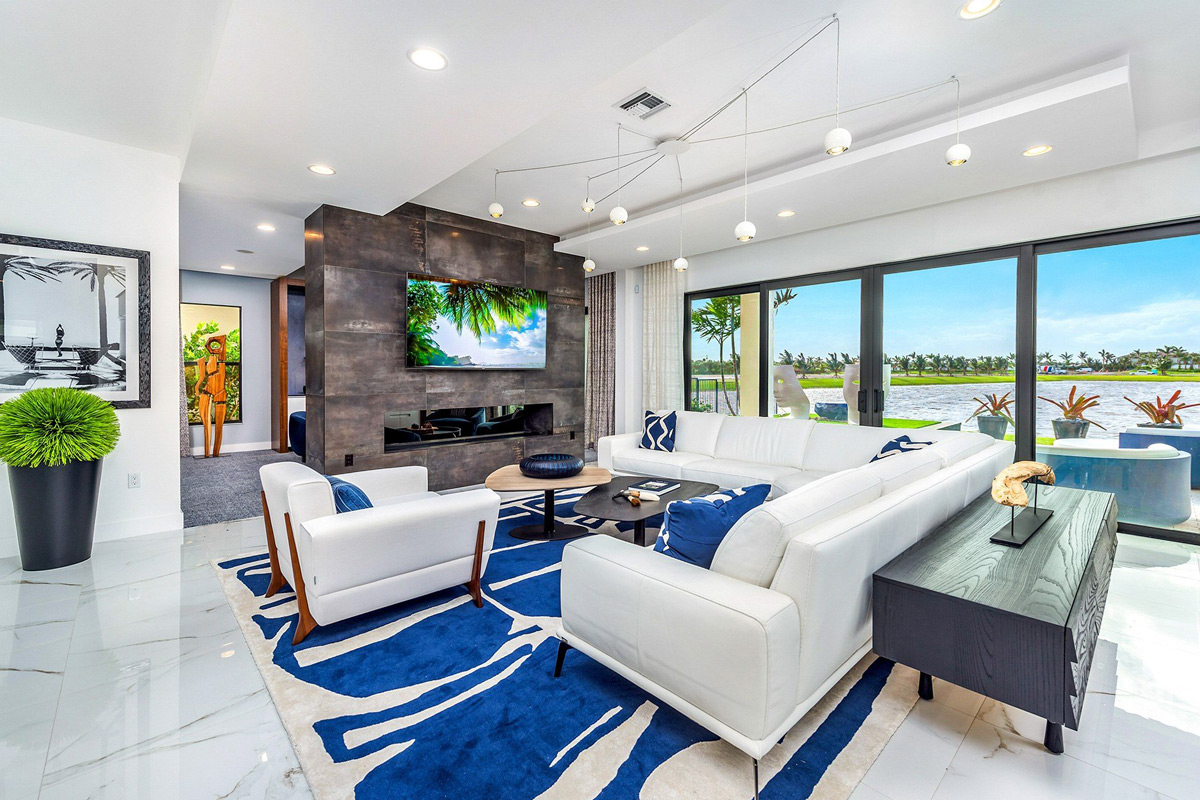 There are 805 homesites at Lotus, many of which are premium lakefront lots with serene water views. These superior waterfront lots are available at an additional cost averaging around $40Ks.
Prices for homes for sale in Lotus, Boca Raton vary, considering many factors, which include size, style, completion date, and location. Typically, homes can be found starting from the mid $600Ks to the upper $1.2 million.
Travel To Nearby Cities
Lotus residents live in a highly desirable community conveniently located in many of Florida's most popular cities. With the community's ideal location to nearby towns, residents enjoy all the picturesque inland towns and beautiful waterfront neighborhoods. Many residents living in Florida love to travel further than a car takes you, and with their proximity to the nearby airports, travel is made quick and easy. Examples of commutes to nearby destinations:
Downtown Boca Raton - 23 min (11.5 mi) via Lyons Rd and W Palmetto Park Rd
Delray Beach - 19 min (9.8 mi) via FL-806 E/W Atlantic Ave and W Atlantic Ave
Village of Golf - 20 min (11.2 mi) via FL-806 E
Gulf Stream - 27 min (13.4 mi) via FL-806 E/W Atlantic Ave
Fort Lauderdale, Florida - 43 min (27.9 mi) via I-95 S
Miami, Florida - 1 hr 6 min (54.2 mi) via Florida's Turnpike
Palm Beach County Airport - 34 min (25.6 mi) via Florida's Turnpike
Fort Lauderdale-Hollywood International Airport - 32 min (24.1) miles via Florida's Turnpike
Restaurants
Lotus community is ideally located near many excellent award winning restaurants. Whether you're craving a rare steak or trying to kick a sweet tooth, the many food offerings are sure to please whatever you feel like eating. Many restaurants are perfect for a night out with their extensive cocktail, beer, and wine lists perfect for pairing with your tasty meal. The area has many different dishes found in the local dining scene serving the community. Below are a handful of the best restaurants in the Seven Bridges area:
Yard House | 201 Plaza Real, Boca Raton, FL
Visit the Yard House and indulge in the 125 varieties of beer and ciders located at Mizner Park. An impressive, diverse menu from seafood and steaks to kinds of pasta and pizzas.
The Capital Grille | 6000 Glades Rd, Boca Raton, FL
The Capital Grille is a premier fine dining steakhouse at the Boca Town Center Mall. Nothing but exceptional cuisine and world-class wines await you!
Rebel House | Rebel House, 297 E Palmetto Park Rd, Boca Raton, FL
Rebel House is truly a unique spot with an eclectic menu of American comfort food among quirky mismatched furniture adding to the hip atmosphere.
Farmers Table Express | Farmer's Table, 1901 N Military Trl, Boca Raton, FL
At the Farmer's Table, enjoy the satisfaction of eating healthy meals. Many of our dishes at Farmer's Table are packaged to maintain freshness longer and retain more nutrients. You can even pick up meals during the week and save time by not having to prep dinner.
Living life in Lotus gives you a lifestyle next to none, safe streets with a friendly community near beautiful Florida beaches. The community's ideal location for first-class amenities, shopping, fine dining, and entertainment adds to the many reasons you should make a home at Lotus, Boca Raton. When you live here, you'll be living a life you don't need an escape from because every day will feel as if you're on vacation!
Boca Raton is an exceptional beach living community in Florida, tt is a treasure chest of beauty, unique culture, good food. Whether you are looking to move to Boca Raton for work, retirement, or pleasure, the town attracts many new residents, retirees, and visitors as well.
Jump back to Lotus, Boca Raton Real Estate Listings >>>